5àsec opens its first store in the United Arab Emirates in Dubai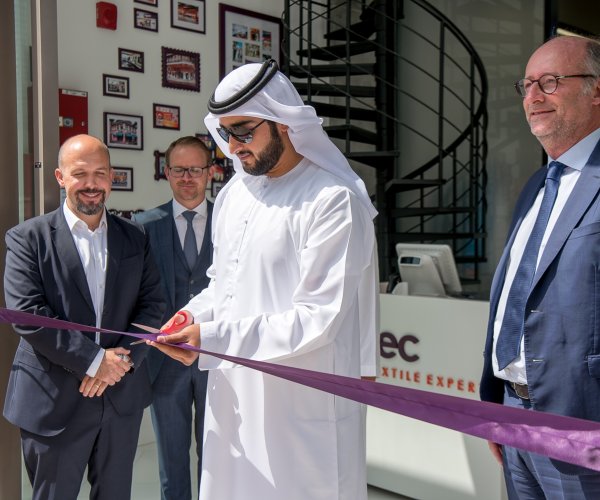 The first 5àsec outlet, located at Dubai Marina, in the heart of the New Dubai, opened its doors last January. The store was officially opened by the Chairman of 5àsec UAE, Sheikh Maktoum bin Butti Al Maktoum, and Sheikh Rashid bin Butti Al Maktoum, during an exclusive media event last Wednesday 27th February. The grand opening celebration also marks the beginning of a large-scale project. A deployment starting as early as March, with the opening of a second dry cleaning shop in Jumeirah, and a third outlet scheduled for the start of the 2nd quarter.  
"5àsec, the world leader in textile care was created 51 years ago by Roger Chavanon. It is today a strong and responsible brand, a network of 1,800 dry cleaning shops across 33 countries, an operational experience offering a unique customer experience. Its presence in Dubai is the starting point of a long series of upcoming developments", explains Vincent Monnot, President of 5àsec Group.
Partnering with an experienced local master franchisee, 5àsec is confident in the potential of this market with innovative offering and processes in line with the local requirements of a wealthy clientele. The brand has thus set up a central production unit connected to a new logistics Application and able to supply its stores in record time. A new mobile 5àsec UAE App, offering a home delivery service, will also be available as of the 2nd quarter.
Andre Mota, CEO of 5àsec UAE, explains: "Dubai's openness to innovation and pioneering big ideas allowed us to further enhance the 5àsec experience by coupling its unique textile care expertise with a focus on a superior customer experience.
We've taken the best of what we do as 5àsec globally and added the Dubai factor to create a new garment care experience."
5àsec UAE website  : 5asec.ae